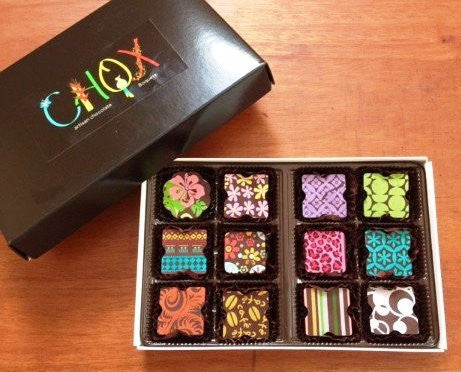 CHOX Chocolates
CHOX 12 Piece Box of Assorted Artisan Panamanian Chocolate Truffles
** SORRY, THIS ITEM IS SOLD OUT **
These chocolate truffles are imported directly from Panama, and are absolutely delicious.
Made with heavy cream, butter, and a variety of natural fruit purees, nuts, fresh herbs and spices to create elegant, creamy ganaches and caramels that dance on your palate.
About CHOX Chocolate
CHOX is a very special, unique Panamanian chocolatier.
They specialize in artisanal chocolates, handmade in small batches. As the only "bean to bonbon" chocolatier in the Chiriquí Province, they believe that CHOX bring exquisite new sensations to even the most jaded of tastebuds.
They start with fair trade, organic, cacao beans from the Bocas del Region of Panama, which impart a smooth, low-acid, medium chocolate flavor with nuances of caramel. They roast, grind, refine and conch the beans to the acme of perfection.