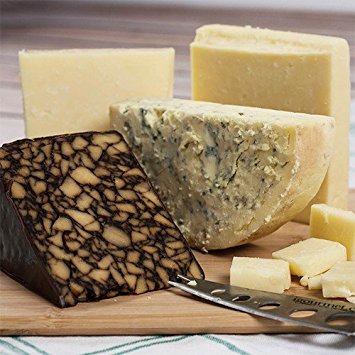 igourmet
Irish Cheese Assortment (30 ounce)
PRICE AND SHIPPING
Cashel Blue: This wonderful farmhouse blue cheese hails from Tipperary. Using only fresh cows milk from their friesian herd, Louis and Jane Grubb have produced this masterpiece. Ideal for melting or after dinner with some port. (7.5 oz)
Dubliner: Tastes of a mature Cheddar, with the sweet aftertaste of Reggiano. Created by the Irish company Kerrygold and named after Ireland's capital city, this cheese shares traits with several well-known cheeses, but the combination creates a flavor that is completely unique (7.5 oz)
Cahill Farm Cheddar with Porter Ale: This is a visually intriguing cheese. Mixed with dark porter ale during the cheesemaking process, this cheese has a marbled effect with dark brown veins. Imported from Ireland, it has a surprising meaty flavor and is obviously a perfect match for ale. (7.5 oz)
Wexford Cheddar: is aged for over 12 months and has a creamy, taut texture and sweet, grassy flavor. The milk for this "bitey" cheddar is taken from cows grazing the green grass of southeast Ireland, an area traditionally known as "The Garden of Ireland". This environment produces rich, creamy milk that is perfect for cheese making. (7.5 oz)
As an Amazon Associate, we earn from qualifying purchases.